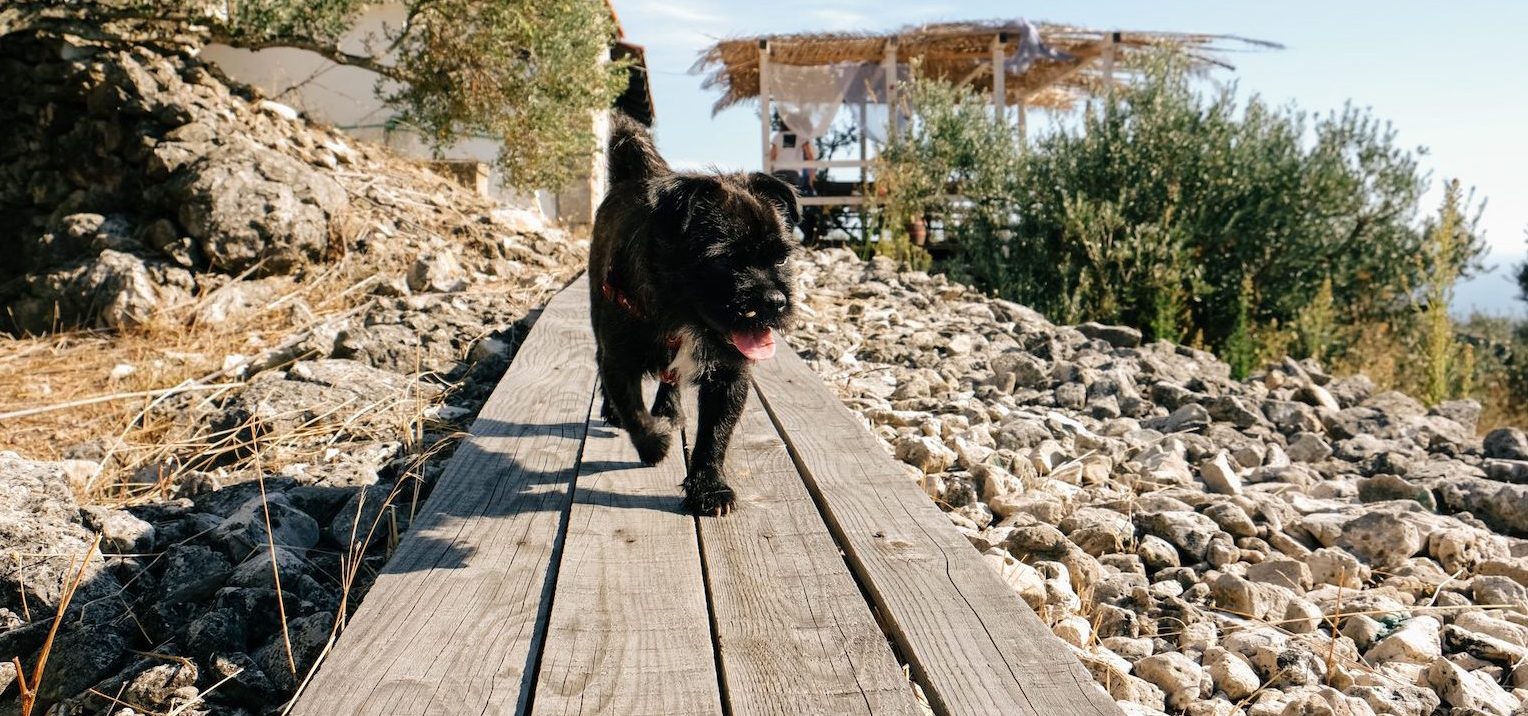 eco-friendly dog products
Dogs are the best, let´s start with that. And as dog parents, we have a great honour to pick up their poop, feed them, wash them, pet them, cuddle, …. but we also have a responsibility to take care of the environment and to choose the products with our planet in my and that way keep our dog´s paw print as low as possible. And I know eco options are not always easy or accessible to us, and that it can get really confusing as there are many different options and also greenwashing like in every other industry. We all want to do good and buy the most eco and safe dog products as possible (that is in our budget) and sometimes we need a little help choosing the really green and eco ones from the greenwashed, aka pretending to be eco-friendly when in reality they are harmful to the environment.
We all know plastic is bad for the environment and takes hundreds of years to decompose (into microplastic), but did you know that many dog poop bags on the market today that claim to be "biodegradable" don't actually decompose when disposed of in landfill? It's because "biodegradable" plastic dog poop bags require the proper conditions to actually break down (mainly oxygen). Many of these bags aren't compostable either. Meaning that, when they eventually do break down (which can take years), they don't break down completely, leaving lots of little nasty bits of plastic behind. But this post is not only about poop bags, so let´s jump in.
FOOD
YORA insect-based dog food. Packed with essential amino acids, fats and minerals, our grubs have the ideal nutritional balance for dogs. As a novel protein source, insect protein is perfect for dogs with meat intolerances, and it's more digestible than chicken. Grubs are raised without the use of growth hormones or antibiotics. Yora's insect ingredient makes this food the lowest C02 producing ethical pet food in the world. Ella is obsessed with it.
If you want to give any of these a try, go to Eko brlog and use "MATEJA" code for 15% off your whole purchase. The code is valid till the end of April.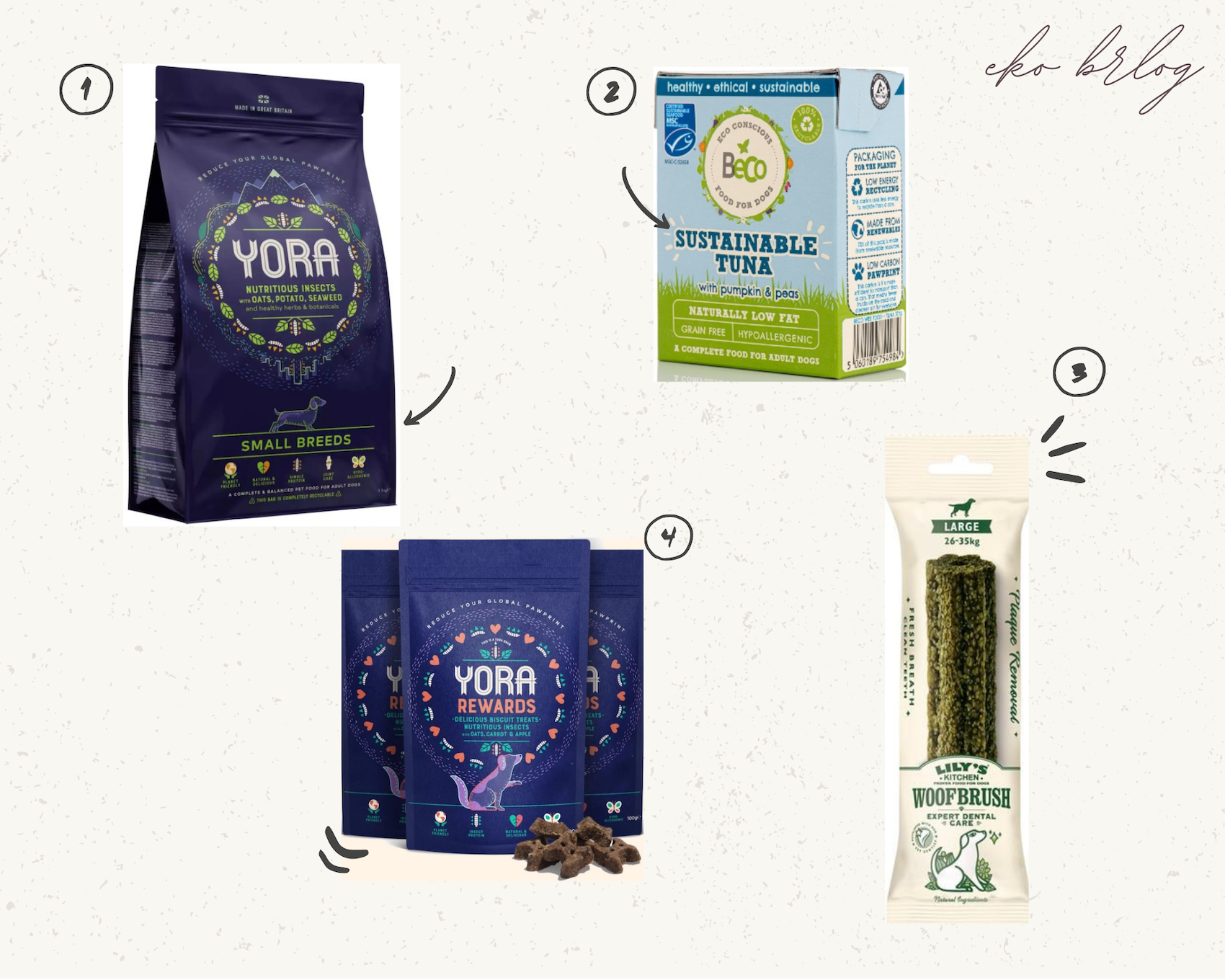 Green pet food offers plant-based, insect and normal meat dry food for dogs (and cats). They also offer food subscription and 5% new customer discount and climate-neutral shipping. They got the German Green brand eco award.
VegDog is German eco plant-based dry and wet canned food for dogs. As they say "You don't necessarily have to feed your dog vegan seven days a week. Even one, two or three days a week not only help to feed the dog healthier, but also to reduce the consumption of meat and thus to protect the environment. "
In Slovenia VegDog is available at Taffy Lilly shop – plant-based dog shop. They also offer Soopa plant-based dog treats.
Dog bakery / Pasja pekarna HOV HOV I found some things listed bellow, that I know Ella would love. All products below are available in Pasja pekarna shop.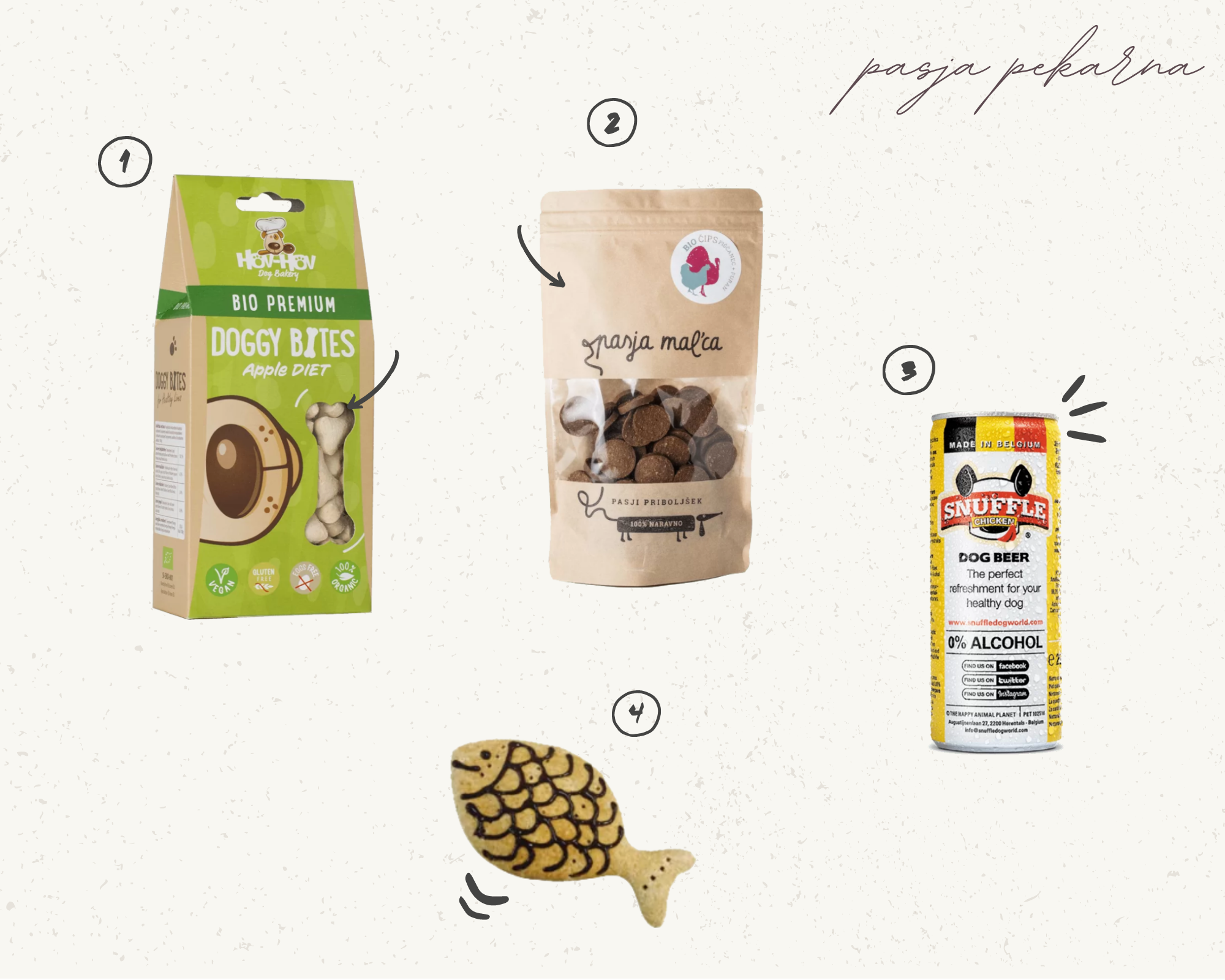 Yanika snacks Natural dog treats without added sugar, salt, artificial colors and preservatives. Made in Slovenia.
DOG´S LOVE canned bio and non-bio dog food, also barf food and dry food. This is the food I was buying when my dog was a puppy. You can get 10% off as a new customer.
Kanina Barf (Slovenia) Barf delivery service. You will receive your food in containers that you can return to them in the next delivery, so it´s a practical and low-waste option.
Pets Deli offers everything from Barf packages, to Green eco dog food packages of food based on veggies and insects. They donated today 3000€ to a dog shelter in Serbia and warmed my heart. DariaDaria has a discount code on her Instagram profile today so check it out. (if it´s not there anymore feel free to write to me, I just don´t feel right writing it here).
DIY dry chicken treats – I saw this one in some YT video. Freeze some chicken breasts and cut it into small pieces or use a mandoline slicer (can´t get myself to do this), then use a dehydrator/oven and dry them out.
DIY penut butter treats – mix peanut butter and oats and form little balls and that´s it.
DIY tuna treats – my neighbour does that and my dog is ready to beg for them as soon as she spots her on the street. Mix oats with canned tuna (the one in water) and bake it till dry.
---
EQUIPMENT
Up-cycled climbing rope leash I found so many sellers on Eatsy that make those, that I will simply share all the results I got HERE (filter is already sent to EU only).
PrettyMutts – collars, harnesses and leashes. Handmade in Portugal, Materials: Organic Hemp, Metal hardware, Eco friendly, Vegan, Plastic Free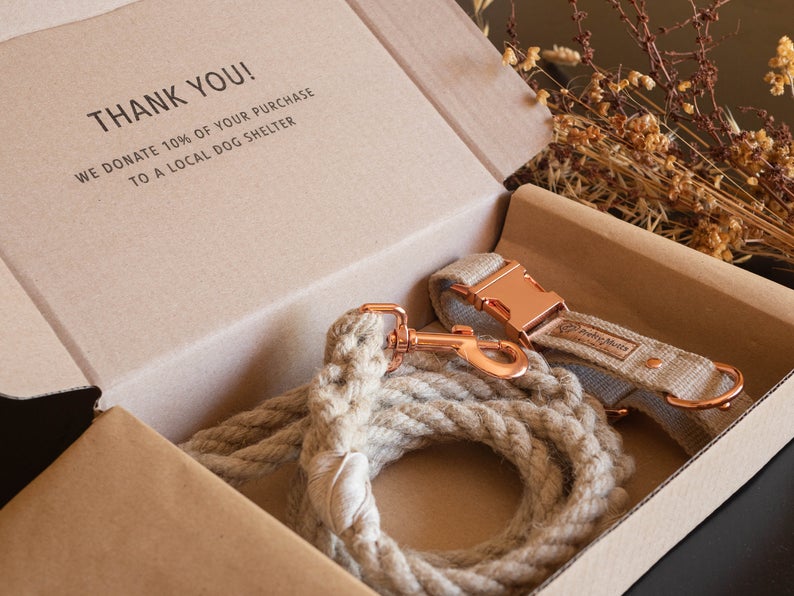 CozyWalkies Cozy rope leashes and collars made in İzmir, Turkey. All leashes are made from 100% cotton rope. They all handcrafted and hand-dyed. So every single leash is unique. Plastic-free.
SueAndGooseStudio (right) A handmade, 100% soft natural cotton rope dog lead, created with the environment in mind. Hand-dyed using non-toxic dyes and whipped with eco-waxed organic hemp twine, every element of this lead has been crafted using sustainable and environmentally friendly materials. Made in UK.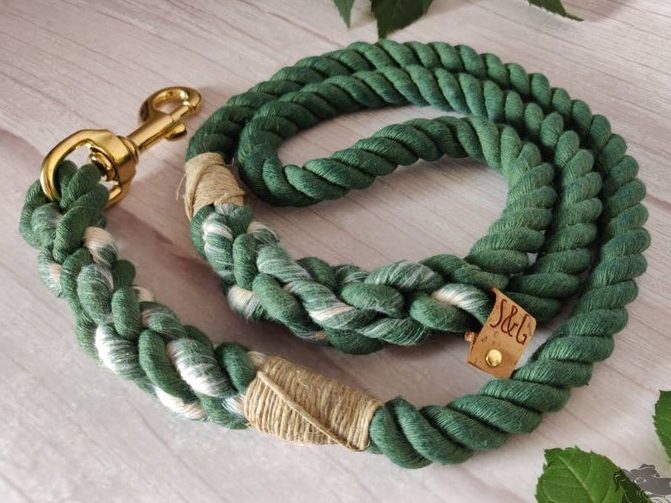 My dog knows Washable waterproof Linen Dog bed covers. Zipper on the side for easy removal. Dog bed duvet does NOT come filled . Stuff this bed with your old pillows, blankets, old clothes, etc. Made in Bulgaria.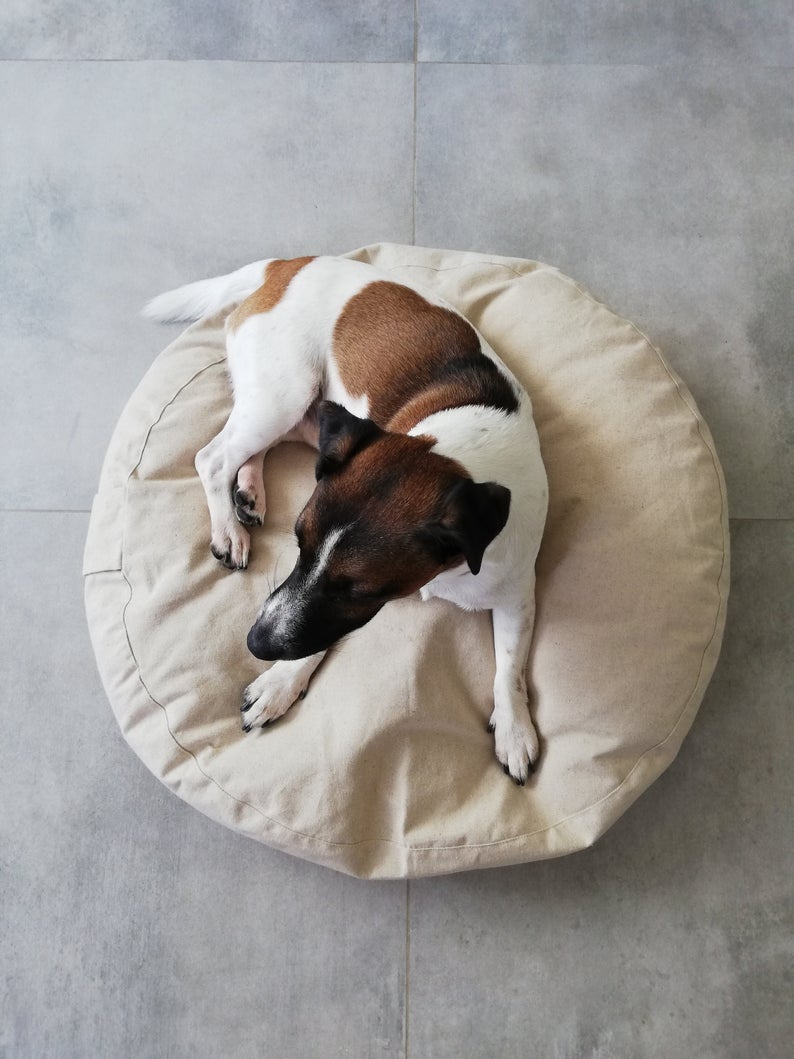 LifeVeganPets GOTS Certified 100% Organic Cotton Pet Bed. Made in Madrid, Spain. They are also removable for easy washing and the filling is based on vegetable fibres such as Kapok, which is antibacterial and regulates the temperature. So your pet will be cool in summer and hot in winter.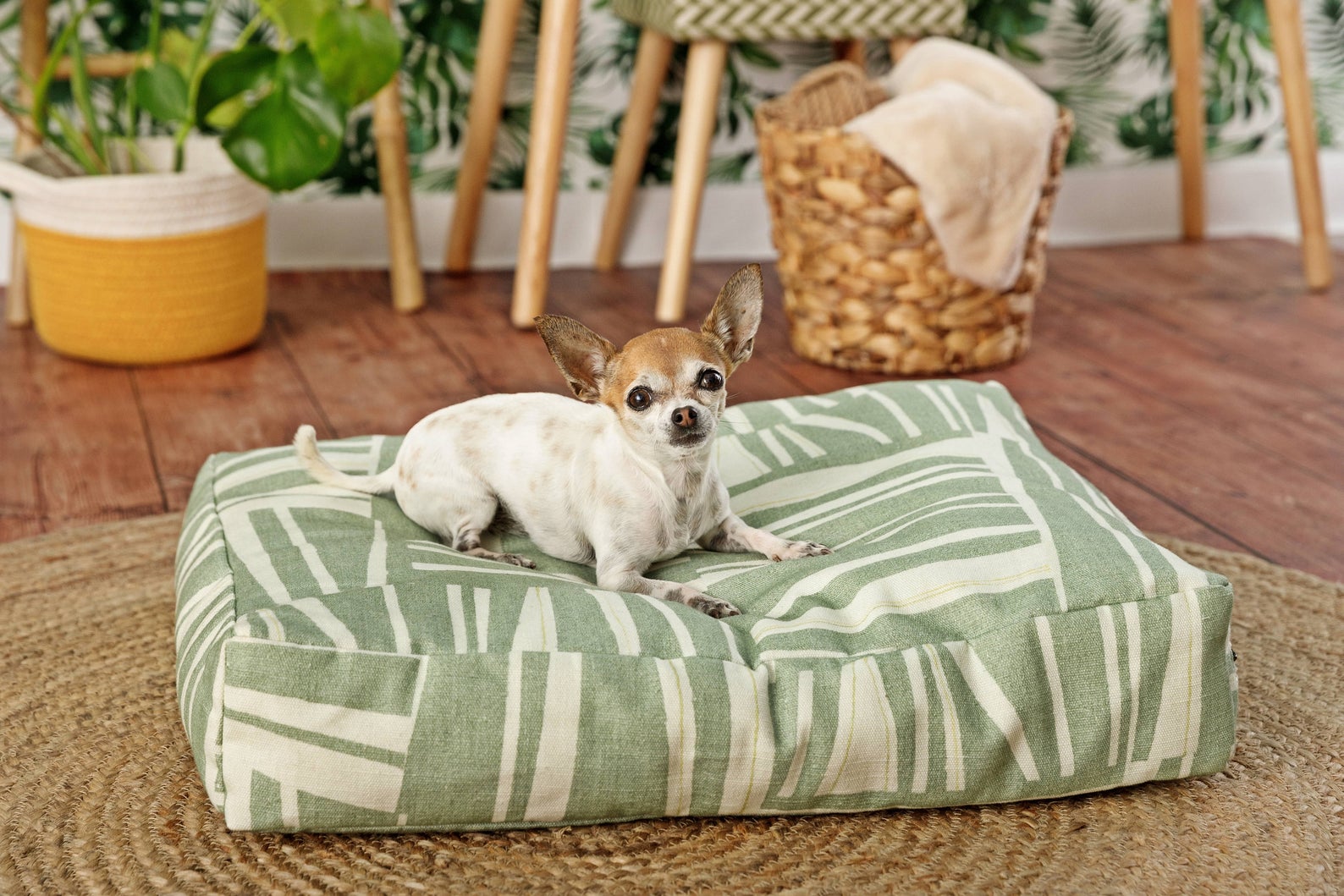 Good Boy Good Boy dog ​​collars are entirely designed and manufactured in Slovenia. The collars are made of natural vegetable leather.
Other collars and leashes from Eko brlog. They also offer slightly used dog equipment and toys.
Hurtta is a Finish high-quality brand that also offers some coats from 100% recycled polyester like this one or this sleeping bag. They also offer eco harness and collar. They offer info about repairs and care of their products to make them last as long as possible. We bought our coat 2nd hand I love it, Ella not so much, until the fun in the snow begins.
---
POOP BAG materials
Let´s first explain what Compostable and Biodegradable and Degradable is because I know it can be confusing.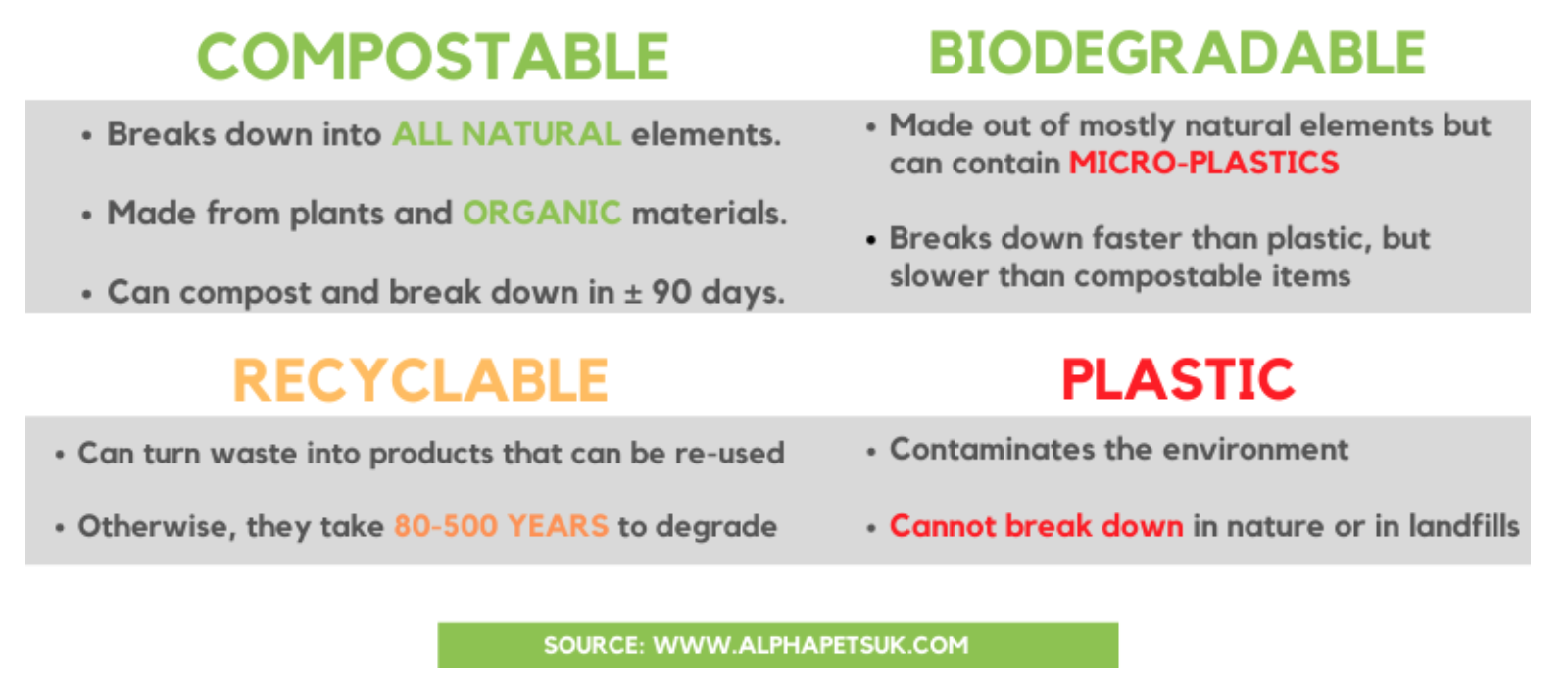 Compostable plastics (also known as bioplastics) are made from renewable raw materials like corn starch and soy protein. Bacteria digest this type of plastic and turn it into compost which means you can put the bags on the compost and they will biodegrade into natural materials. But don´t through them in your local compost bin or home compost because dog poop does not belong there. You can build a separate dog compost or throw the bags into the mix trash bin.
OK compost HOME certified (tested at 20-30 ° C) and are therefore biodegradable even under low-temperature conditions, such as those found in Germany and other countries in Central Europe in the environment. This is the only way to ensure that it can also be broken down outside of industrial composting.
OK compost "or according to "EN 13432". The test is carried out in an aggressive industrial compost environment at 60-70 ° C. Although this means that these products can be biodegraded in principle, it does not mean that this also works at local temperatures. There may be no or only partial degradation in nature.
Biodegradable In basic terms, the definition is simple: If something is biodegradable, then, given the right conditions and presence of microorganisms, fungi, or bacteria, it will eventually break down to its basic components and blend back in with the earth. Ideally, but not always, these substances degrade without leaving any toxins behind. In other cases, they can leave micro-plastics behind. So check what the material of those bags is.
Degradable plastics are petroleum-based and have other chemicals (including heavy metals) added. These plastics break down eventually because, well, that's what "degrade" means. All plastics are degradable, either because they're intentionally broken down or through the natural degradation of the material, which could take hundreds of years. When a label says "degradable," there's really no telling how long the plastic sticks around after you throw it away.
Are degradable plastics a greener alternative to regular plastic bags? Unfortunately, experts say they're probably just as bad for the planet.
You see, degradable plastics don't "return to the earth"; they just break down into millions of tiny pieces of plastic. That makes them harder to remove from the environment and easier for animals to ingest. Some of the "microplastics" left behind enter the food chain via smaller species like plankton, fish, and birds, eventually making their way into human bellies. Degradable plastics go into the general waste bin. They're not suitable for compost bins or worm farms.
Don't be fooled by "recycled plastic", either. It's recycled, but it's not biodegradable.
It looks like this should be a blog post on it´s own. 🙂 To sum up, look for OK compost HOME label.
---
POOP BAGS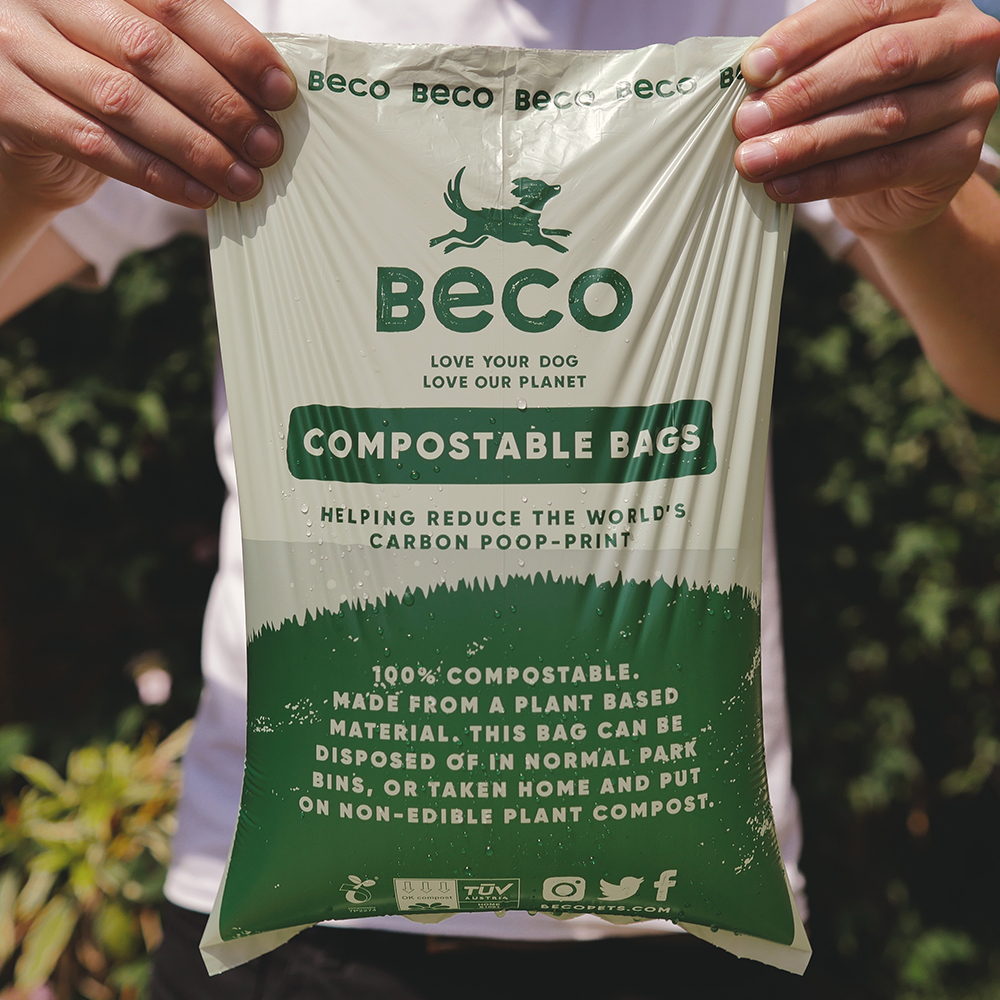 Beco bags compostable (OK Compost Home) from Eko brlog. Available in packs of 48, 60, 96 bags or 120 bags with handles.
Eko brlog "MATEJA" code for 15% off your whole purchase. The code is valid till the end of April.
The Sustainable people poop bags are starch-based – 100 % Compostable and Biodegradable, certified OK compost HOME. Available at Taffy Lilly shop.
Earth rated are most popular bags in the shops around me. But you need to know that even they make all their products look eco and green, not all of them are compostable. Only the light green bags are BPI-certified compostable and are made from vegetable starch. It looks like they changed the design or made new compostable bags that makes it easier to set the compostable and non-compostable apart.
Planet Poop has the smallest bags I found (for my dogs mini poop). 100% Compostable. Planet Poop bags will decompose in approximately 90 days when placed into a composting environment, helping keep our landfills, seas and the entire planet plastic-free. No harmful chemicals are released into the environment during decomposition, only water, carbon dioxide and biomass. As dog poop contains harmful bacteria it is not advised to dispose of used bags in a home composting system or your garden." The only problem I have with them is that they sell only through Amamzon.
POOPOO bags A practical scoop-system disposes of your doggie's poo in an elegant and convenient way. Humorous prints such as "Doggy bag", "Dont blame me" or "Size matters" make the walk to the next garbage bin an easy and fun task. 100% bio-degradable paper bags. Made in Germany and apparently made with 100% recycled paper, but have no certificate or info about it on the packaging or their page. But I love the idea. The only reason I wouldn´t use them is that my dog's poop is so tiny it seems like such a waste to use this whole bag for it.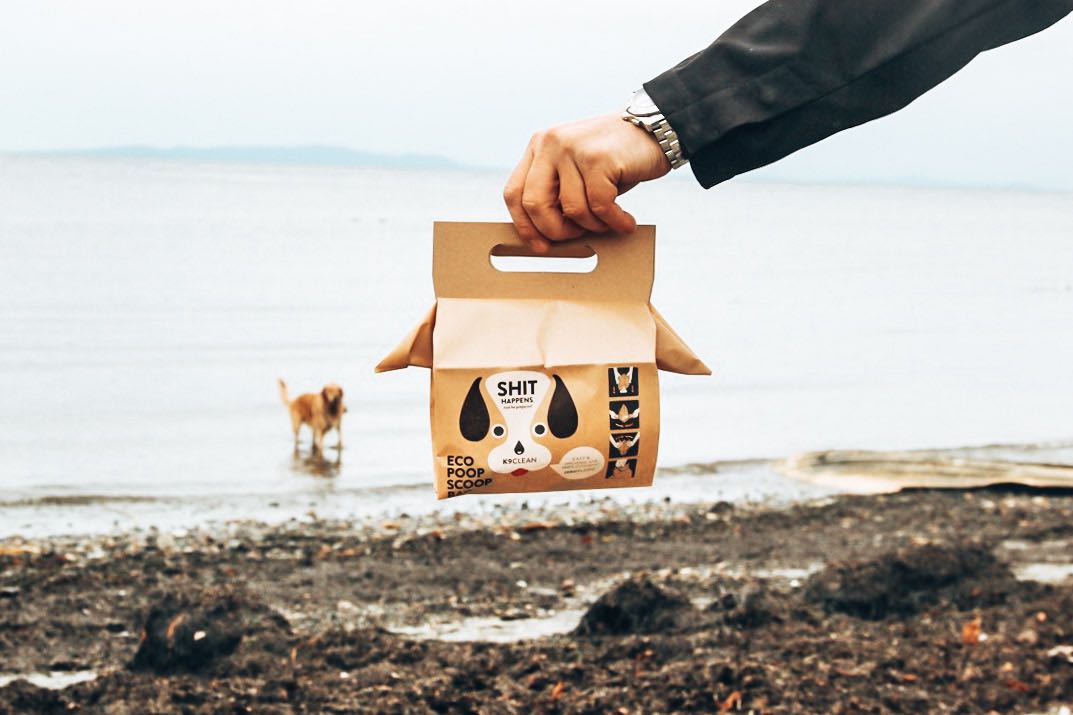 DIY bags from old newspapers is a great eco option if you have old newspaper piling up in your house or at office.
Bark Potty Natural Pet Pad Bark Potty is made of real bark and like real grass, contains the natural smells that compel dogs to "go." The tray is lined to prevent leaks, the proprietary bark naturally neutralizes odours, and one Potty replaces up to sixty pee pads. This one gets an eco-innovation award from me 🙂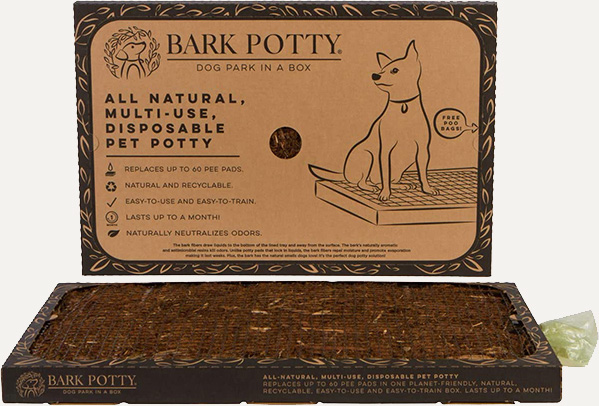 ---
TOYS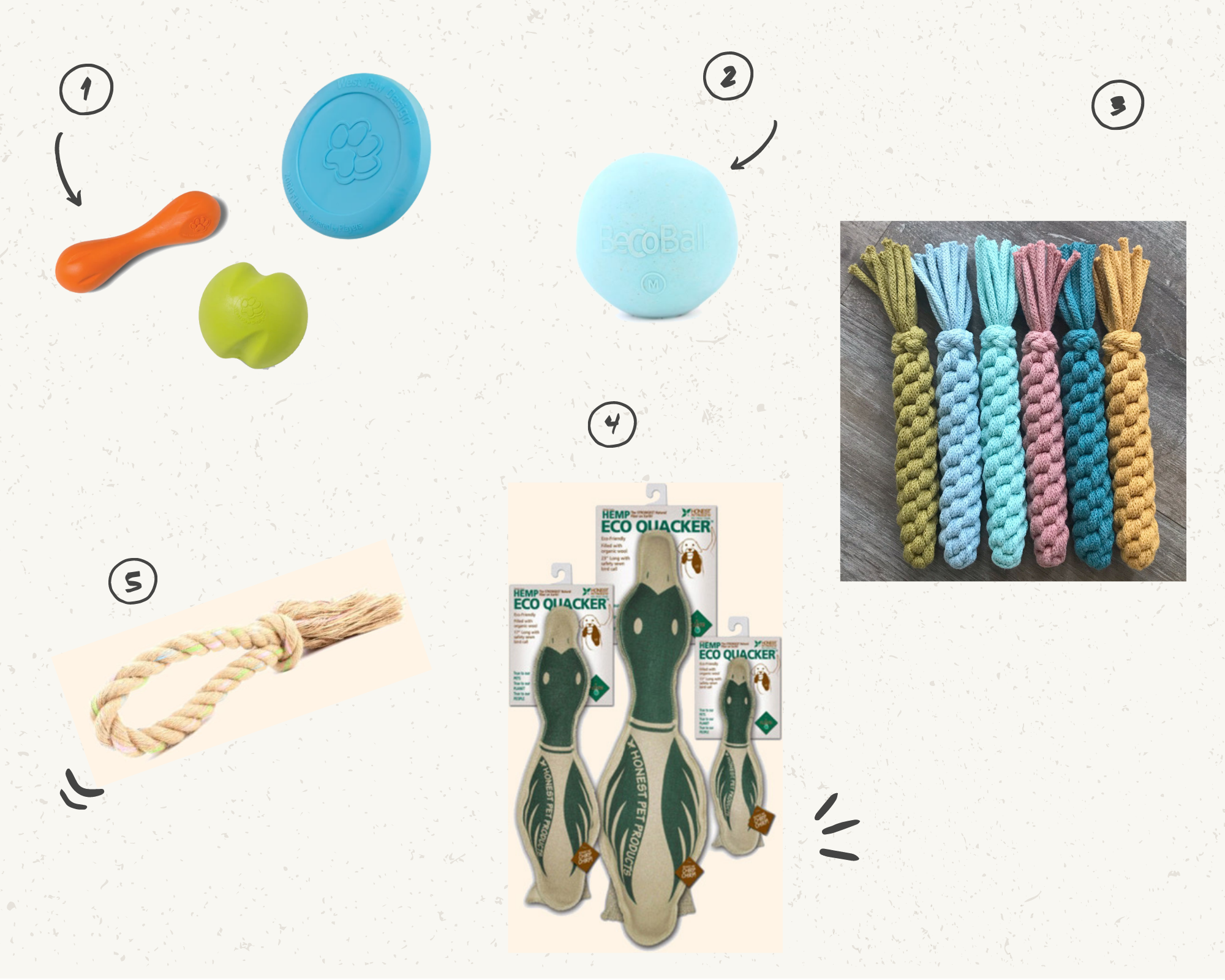 #1 Zogo flex® dog toys are infinitely recyclable—meaning when you send your worn-out toys back, they sanitize them, grind them up and turn them into more things dogs love. Plus, they are just about indestructible, but if your dog does chew it up, they'll replace it for free. They are also a Certified B corporation. Guaranteed to last | Easy to clean | Non-toxic and safe | Infinitely recyclable | Zero-waste manufacturing.
#2 & #5 BecoPets – BecoBall (Eko Brlog) biodegradable balls made from natural rubber. And BecoPets Jungle hemp ropes, my dog loves this one.
#3 PartyMutts handmade toys from Scotland, United Kingdom are Made from 100% recycled OEKO-TEX cotton.
#4 Honest Pet Products entire line of natural dog toys, natural cat toys and natural bath products are made from natural, sustainable hemp and natural wool. All of our natural hemp products are handmade by disabled adults, and our natural wool products are handcrafted by impoverished women supporting their families. I know that my dog would go nuts for this eco quacker. Eco fetcher made from hemp and wool is a great alternative as well as tugger hemp bone.
DIY you can also make something similar to #3 with your old T-Shirts. My dogs first toys were an old T-shirt that I cut and made some knots to look like something like the #1 toy and a cut off from a climbing rope with few knots.
---
HYGIENE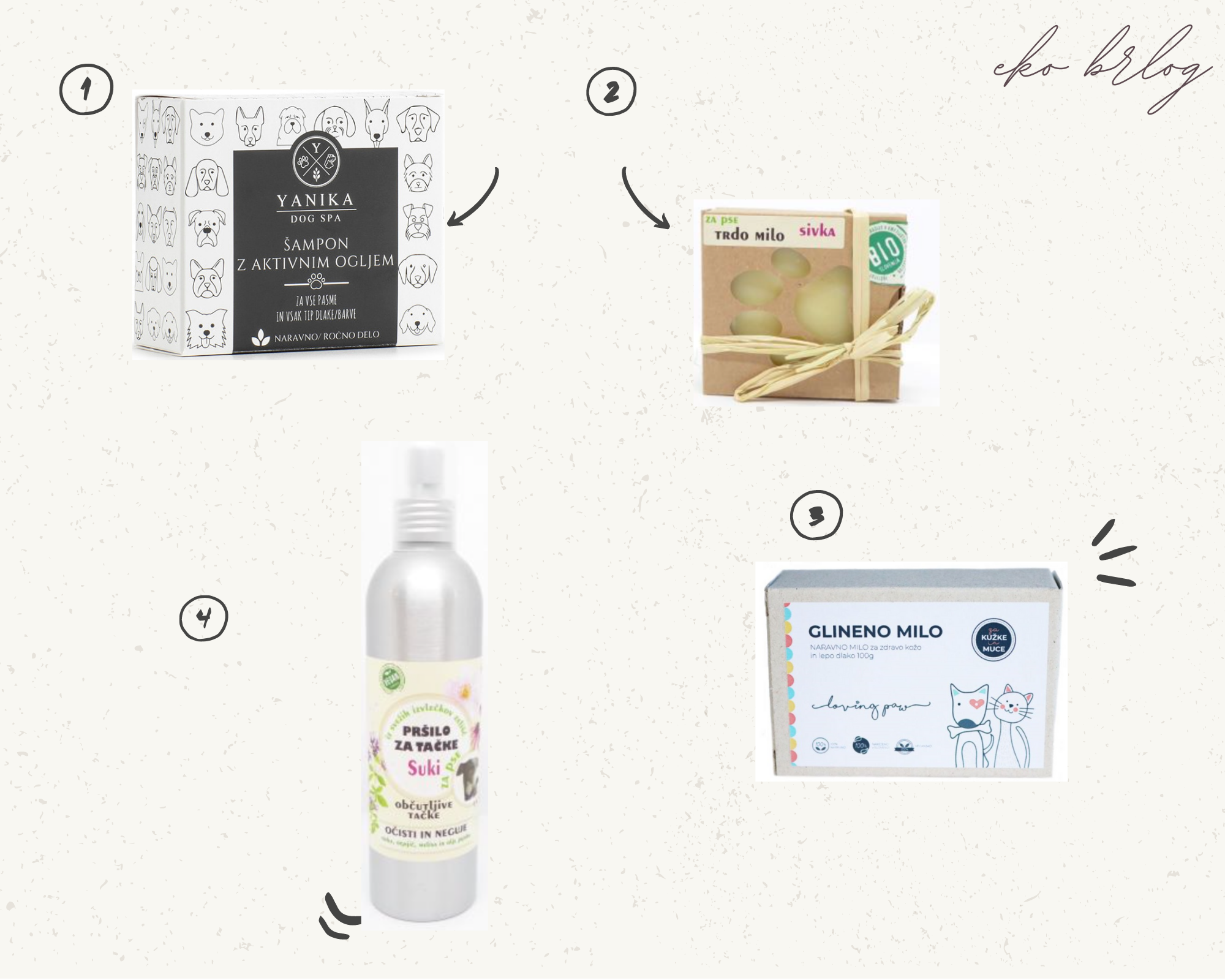 When it comes to protection against ticks, fleas and mosquitos I got her a collar (don´t have a brand) against those last year because the amount of ticks around here (Schladming) and on Hvar is out of control. Plus she is so small and rubs all around the grass.
I plan to give Biospotix a try this spring, available at Eko Brlog.
Coconut butter – I tried massaging coconut butter/oil into the fur when Ella was a puppy her and it worked pretty well. But I understand that it´s not something you wanna do at home and have your dog leave oil marks around the furniture. 🙂 But if you are camping or you need a fast and eco-freindly protection give it a try.
AVOID The most popular kind of flea control product on the market is the "spot-on" variety, sold under brand names like Frontline® and Advantage™. The active ingredients in these solutions include chemicals such as imidacloprid, fipronil, permethrin, methoprene, and pyriproxyfen, all of which have caused serious health problems (PETA). I admit we gave Ella Frontline the summer we came back from Serbia and she got fleas there. You might know how bad it is when you bring them to your home. Now I will do my best to prevent it first.
---
WHAT TO DO WITH OLD OR OUTGROWN EQUIPMENT?
Repair it as long as possible. Sell online or give it away for free to somebody that wants and will use it. You can also sell it over Eko Brlog page. Donate to dog shelters, a lot of times the local pet shop collect the items and bring them to dog shelters. And if it´s really destroyed try to use or save and reuse parts of it (like clips, parts of clothes to use them as wipes …) and recycle the rest if possible.
WHAT I USE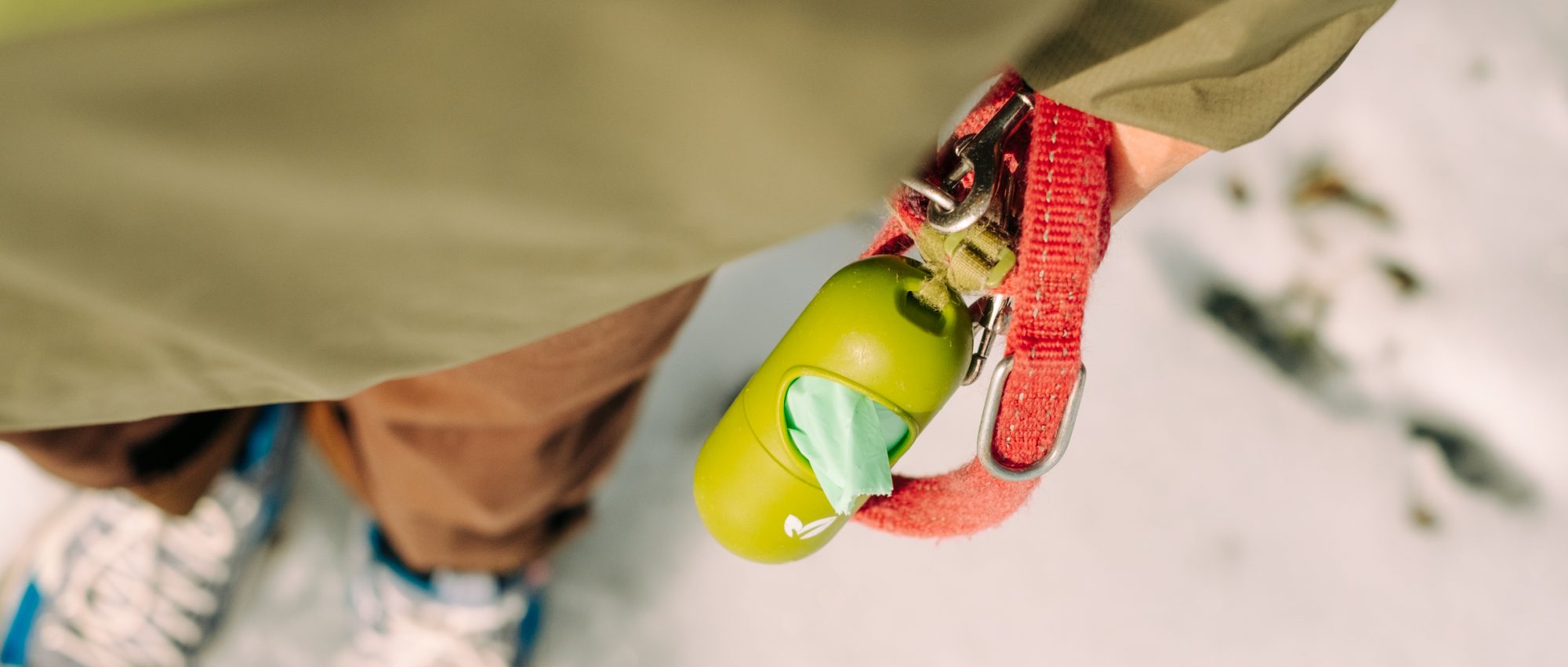 SHAMPOO Hund & Herrchen Sensitive shampoo for puppies and adult dogs with problematic skin and sensitive hair. Nourishing, cleansing, pH-neutral formula. Available here (slo) or here (at).
Just so you can see that not everything I have is super eco-friendly. Sometimes we need to buy something in a hurry and choose the best option available (like the first leash and harness) or we simply can´t afford it or our dog is growing so we don´t want to invest too much in a collar or harness. Sometimes things are gifted to us and so on. The list above is there to help you choose new products when you need to replace something.
LEASH AND HARNESS Croatian brand Matis pet, I also borrowed a cat´s harness in the beginning because the one I bought was still too big for her. Harnes she has now is Wolf Gang and it was a gift. I might try to DIY one from some old boat rope or climbing rope, will keep you updated.
FOOD Yora dry food, treats, Happy dog mini (because that´s the best I can find in our local shop if I run out of food), Dogs love dry and wet food,
CLOTHES 🙂 I bought her a used full body suit by Hurta, she is not a big fan until she gets really cold.
TOYS Best friend Bobby is a Mammut promo toy and I don´t know how that is made but she had it since beginning. She has a hemp rope from Beco, some old tennis balls, a disco ball with lights she got as a gift…
POOP BAGS I bought a huge pack of Green Maker bags that I´m slowly running out of. I will go for Beco bags compostable.
In our small town, we have separate dog bins and "free" (we pay dog tax … don´t ask) plastic-bags by Balloon. They will be apparently burned together with other mixed waste and turned into electricity. I ended up watching videos about it and how they filter the fumes and leftovers…. I stopped otherwise I would never finish this post. But it got me question my choice of compostable bags since they end up in the mixed waste and will be burned anyways. And I can´t throw them in composting bins …because of the poop 🙂 But my conclusion is that the bags are made from HDPE 2 Polyethylene and the production of those adds greenhouse gases to the atmosphere. So when I need to use them I still prefer compostable ones, because even if they end up in an environment they will biodegrade and not do any harm. Especially if I travel to Croatia, Hvar and need to use the poop pags I don´t want them polluting the sea there. Ok I will stop talking about poop bags. 🙂
BED she got from Mali, the dog I was doggy-sitting and it seems to be filled with something natural, but there is no brand on it.
CAR BOX is plastic sh** that already broke and is now fixed with cable tie strips. Since she is so small we just keep her on one seat and she feels best in a box where she just sleeps the whole way. Otherwise she climbs from one person to another 🙂 So maybe one of the wicker baskets for bike is an option, but not sure how safe that is.
But as you can see Ella is a minimalist 🙂 She said that we can buy her treats instead of toys.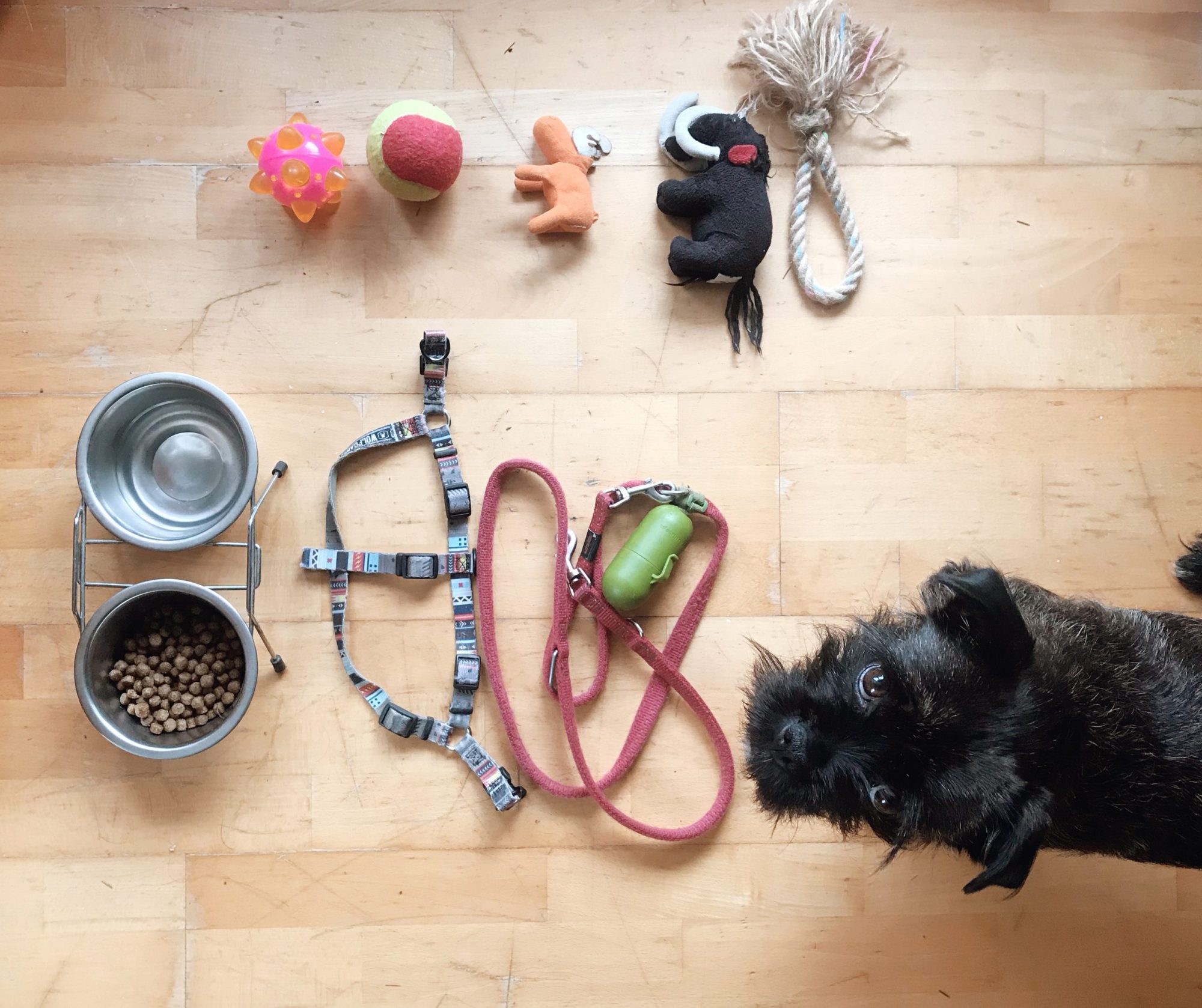 And once again use "MATEJA" code for 15% off your whole purchase on Eko brlog. The code is valid till the end of April.
Thank you,
Mateja