5 questions for sustainable brands: mila.vert
Mila.Vert is a Slovenian brand that makes high quality, beautiful and timeless pieces. All items are made on-demand and can be customised to individual body measurements. They are one of the leading brands in the fair and sustainable fashion industry in Slovenia and I am proud to share this interview with you during this Fashion Revolution Week.
---
"We produce our clothing in collaboration with two family-owned sewing companies and a knitting studio, all located in Slovenia, EU, where Mila.Vert originates. We enjoy getting input from people, both inside and outside the company. Seeking out environmentally friendly fabrics can compromise design and style, but we do not look at it as an either-or choice. We intentionally design slowly and intend to make clothes that are timeless and made to last; we emphasise the quality of clothing. To assure the highest aesthetics and quality standards, some garments are partially handmade and all of them are made-to-order. The main benefits of a local production are the insight into every step of the process and the ability to produce each order individually – this allows us to customise each and every order according to your own body measurements. A favourite piece of clothing fits plenty of occasions and can be worn again and again, so we design quality classics rather than respond to trends."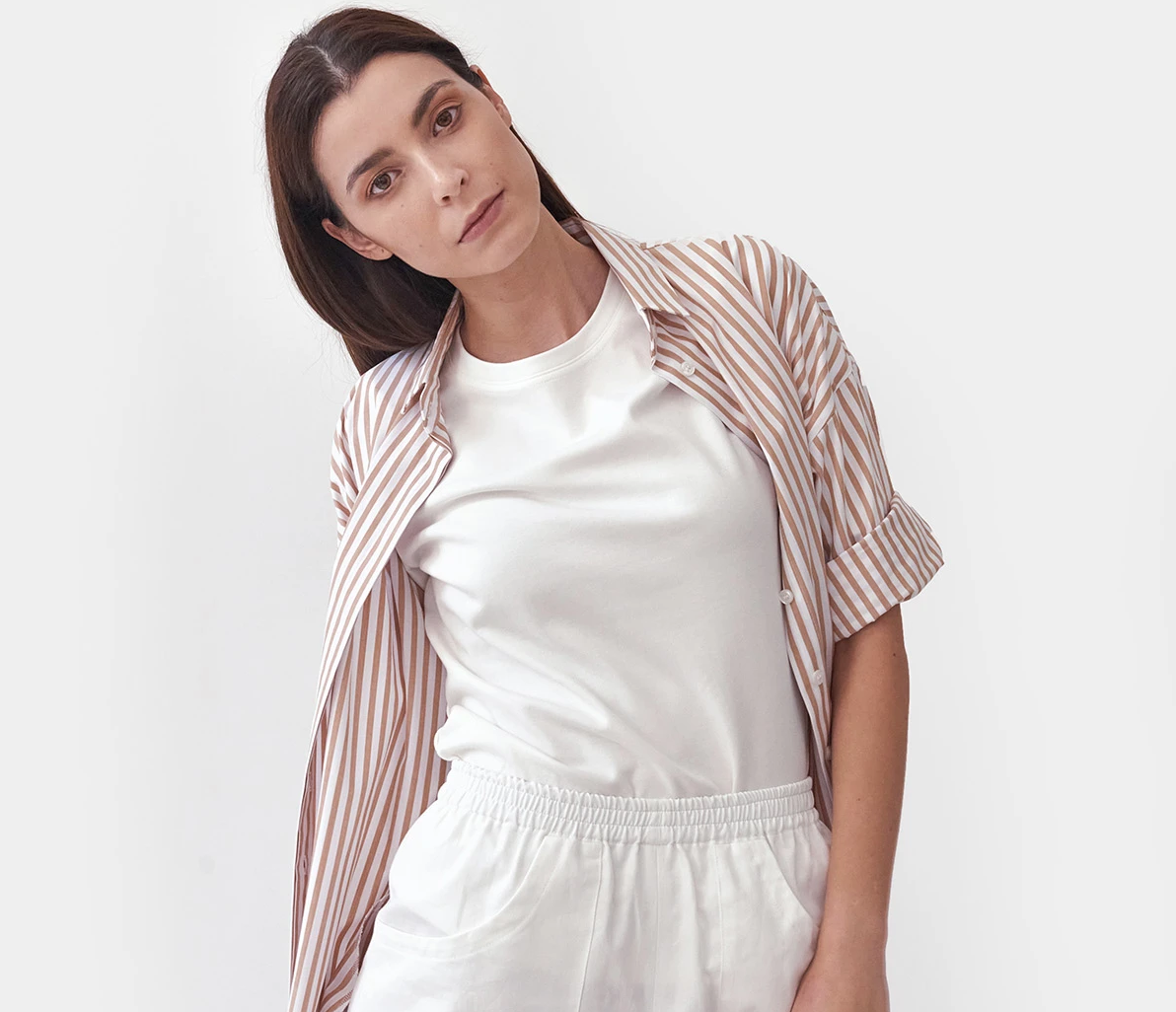 5-QUESTIONS 
1.What is currently the most important goal for your brand?
Besides working on future collections, we're slowly but surely growing our network of stockists all around the world and bringing sustainable fashion to a wider audience.
2. What is the biggest challenge you are facing right now as a sustainable brand?
We can see that sustainability is on the rise and with it came greenwashing – big players in the industry are simply not as sustainable as they claim. We're doing everything we can to keep our brand completely transparent and our communication clear, honest and genuine.
One of the things we also notice is a lack of available sustainable fabrics. For our first collection, sketches and designs were made first. Tina, the head designer, then looked for organic materials that would go well with her designs and wasn't able to find all the necessary materials for that first collection. We have now reversed the process and first find the materials and then come up with designs. In a way, it's the fabrics that are the main source of inspiration.
3. What are the areas where you would still like to improve in terms of sustainability?
We haven't yet found paper packaging that would be 100% recycled and recyclable but are working on it. We're also redefining what sustainability means to us and looking into options of using leftover fabrics from other brands in the fashion industry to prevent them from going to waste and lower our use of new and virgin fabrics.
4. What are consumers supporting with buying from you and what would be your message to them?
Here at Mila.Vert, we've tackled the biggest problems that the fashion industry has – the fabrics, the production and the discarded products. We only use organic, recycled or sustainable animal-friendly materials of the highest quality. They are either made according to GOTS or IVN Best standards or produced within low-energy, closed-loop systems.  Regarding production, we ethically produce our clothing on demand in Slovenia, EU. This allows for a transparent local production and ensures a fair living wage and good working conditions for everyone included. Every piece is made-to-order and crafted after an order has been placed, eliminating unnecessary stock and precious energy and materials going to waste, while enabling us to produce custom-fit garments according to our customers' body measurements. Custom-made clothes mean we get less returns and the fit is perfect – it's a win-win situation. We avoid plastic in our packaging wherever possible and use up our leftover fabric to create zero-waste bags. We think fashion should and actually can be done responsibly – we as brands and our supporters have the power to change the system for the better.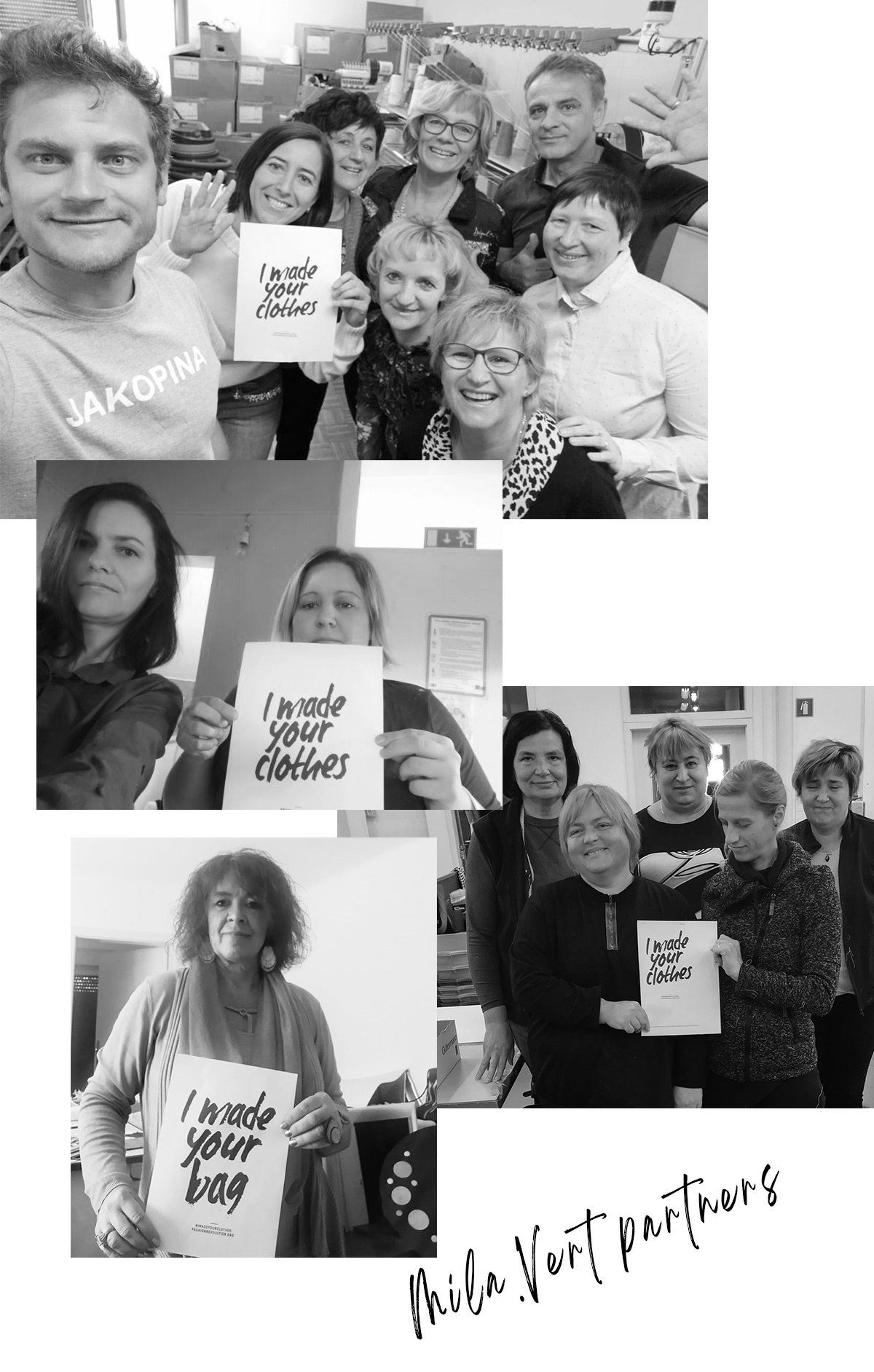 5. What would be your message to other sustainable brands in the industry.
To keep going! There's so much yet to be done and we're not stopping. We stand by the fact that there is no such thing as 100% sustainability, but we believe we can all do our best. Demanding transparency and justice from brands we support and work with is the least we can do.
"We don't see sustainability as a competition, nor we think it ever should be, but rather as a range of individual opportunities we – both our brands and as consumers – can make every day."
"For me, Mila.Vert represents the story of empowerment, of following your passion and being kind to yourself and to others. And this is how I want to make you feel."

Tina Logar Bauchmüller, founder and designer
Previously "5 questions" were answered by : Goodwill, Montreet
Thank you!
Mateja
---