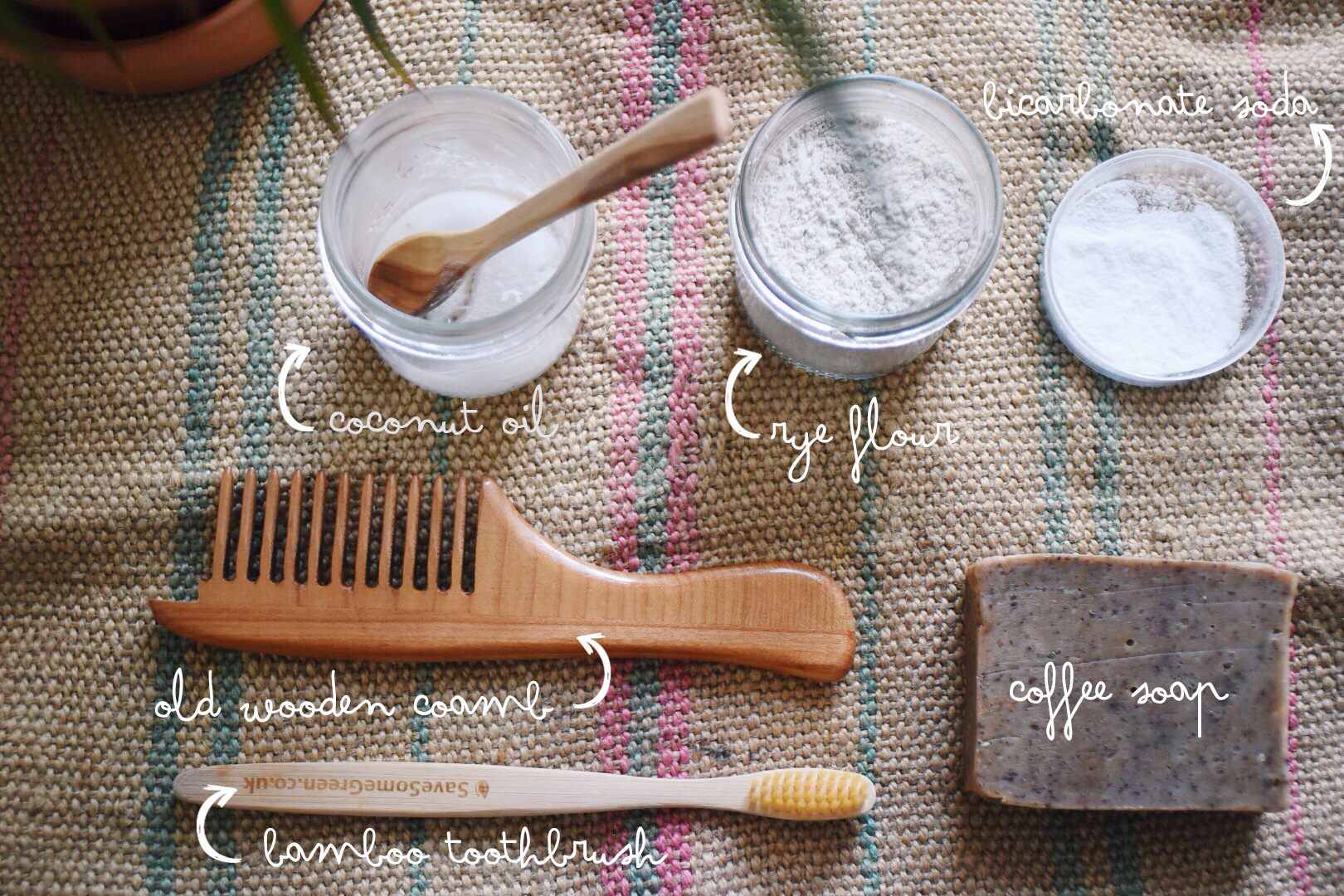 Simplifying my life: Zero waste toiletries
Last June I decided to try to do 7 days of zero waste and it change me forever. Few weeks after that I  witnessed first hand how plastic is destroying my paradise and why I hate it so much.
I´m still far from living a zero waste lifestyle, but I definitely try to do my best to minimize my waste. Every time we fill a bag with plastic and take it to recycling, it makes me really sad, because I know we can do better. 
When it comes to non-recyclable trash, we have maybe one really small bag every 2 months. And we have no trash can in the bathroom because we really don´t need one, and this is why….
Simplifying my bathroom with this zero waste swaps
Coconut oil for my face and body
#1 product that should be in every bathroom is Organic Coconut oil. It's naturally antibacterial and antifungal, so it´s and excellent moisturizer for your face and body. I use it also as make-up remover, lip balm, shaving cream and a hair mask/oil.
Rye flour for my hair
Oh, yes. The struggle of finding the right alternative to regular shampoo. I never like the popular shampoos, that leave my hair flat and way too silky and because of that also oily in 2 days. And as much as I loved O´right shampoo I was using before, I wanted to find a more affordable solution.
So wen it come to different no-shampoo solutions, I learned the hardness of the water has a lot to do with it. It´s just a bit trickier to wash your hair without shampoo if you live in the mountains like me, where water is hard (7 – 9 ° d. H.).
So right now I´m sticking to rye flour mix. I mix 2-3 teaspoons of rye flour with 1dcl of water and shake it well in a jar. I wet my hair and massage the mix in the hair like a normal shampoo. It even feels like it´s foaming. I leave it in for 1-2 min and rinse with cold water. Additionally, you can use mix of apple vinegar and water (1:10) as a conditioner.

Old wooden comb
This one has been through a lot but it still serves its purpose. It´s better for your hair and environment.
The natural wooden fibers work great to condition your hair. As you comb, the natural oils from your scalp coat your hair shaft all the way down to the ends.
Bicarbonate soda as my deodorant 
When it comes to deodorant, I stick to simple bicarbonate soda (baking soda). Using baking soda as a deodorant is a simple way to combat body odor without subjecting your body to chemicals.
Baking soda is great also as a face and body scrub or to clean your sink and shower.
Natural soap
For face and body wash I use natural soaps. This one is coffee & walnut natural soap by Milo za drago (made in Slovenia).
Bamboo toothbrush
This is my third bamboo toothbrush and I absolutely love them. They are soft (like Curaprox that I used before). This one has bamboo handle and bristles, so it´s completely biodegradable. It came in a cardboard box, so no plastic needed. You can check them out here (savesomegreen).
Chalk for my teeth
My recent purchase was this chalk toothpowder. The mixture of calcium carbonate, Birkengold ® xylitol and herbs gently cleans the teeth and fights against the growth of caries and periodontal bacteria and the oral cavity is permanently inhibited. 
I simply press the slightly moist toothbrush into the tooth chalk so the powder sticks to the toothbrush and clean my teeth as usual. They say 30g glass usually lasts 1-2 months for brushing teeth. Sounds perfect to me.
Ingredients: Calcium carbonate, xylitol, peppermint powder (Mentha piperita leaf powder), ginger powder (Zingiber officinale root powder), carnation powder (Eugenia caryophyllus flower bud powder), eugenol.
This, next to a few products that are not in the photo: biodegradable ear buds, razor (that needs to be replaced with a safety metal razor) and my menstrual cup, are the only things I need in the bathroom. Ok and maybe a towel and some toilet paper! 
Cheers!
Mateja