I´ve been thinking how much money I actually saved since I decided to avoid plastic and stop buying cheap fast-fashion clothes. I track my spendings for past 10 years already, sometimes they are organized in Excel file, but sometimes they look messy in my notebook. They definitely came handy now. So I grabbed my old notebook and started calculating …
1. BODY AND FACE CREAMS
In average I would spend around 200€ on different face creams, anti-pimples creams, body creams, body oils and other creams I don´t miss right now. I replaced all of them with coconut oil and some tee tree oil.
2. MAKE-UP
I was never heavy make-up user, but I would definitely spend my money on it. Foundations, CC creams, bronzers, powders, mascaras, nail polish, … and of course all the products needed to remove all that from my face (make-up removal, eye make-up removal, cotton pads, tonic). All that would cost me around 250€ per year.
Now I own one CC cream and mascara by Sante cosmetics that will last me for more than a year. If I really feel like I need some color on my face I use cacao powder, works perfectly.
Cotton make-up removal pads got replaced by cotton tissues made from old T-shirts or towels.
3. SHAMPOO AND DEODORANT
I used to buy different hair shampoos, conditioners, leave-in conditioners, hair masks, hair oils, body washes, shaving creams, deodorants, ….that would cost me in average around 300€ per year.
Shampoo got replaced with rye flour and conditioner with apple vinegar.
Body wash got replaced with long lasting soap.
Deodorant got replaced with simple bicarbonate soda.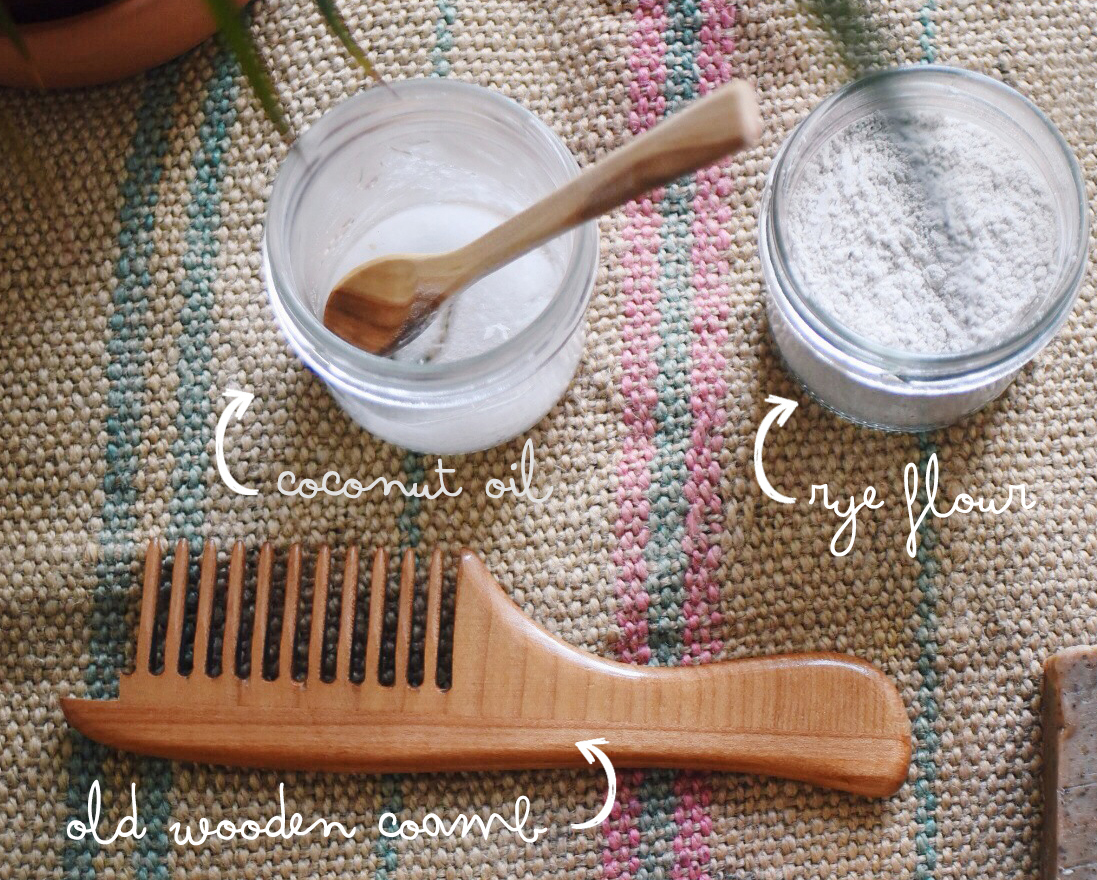 4. TAMPONS
got replaced with a menstrual cup. But before they would cost me around 8o€ per year.
5. PAPER TOWELS, TISSUES, NAPKINS
We never used a lot of paper towels in out kitchen, but napkins, tissues, paper towels and baking paper would still cost around 150€ per year if I calculate all parties and bbq´s.
Tissues got replaced by cotton tissues made from old T-shirts.
Napkins and paper towels got replaced with cotton kitchen towels.
The baking paper got replaced by silicone mat.
And aluminum and plastic wrap foil was never bought again. We still have some leftovers we don´t need.
6. CLEANING PRODUCTS
Well, this can be expensive. Dish washing liquid or dishwasher pads, dishwasher liquid and salt, one for the bathroom, one for the toilet, one for the floor, windows, … And then laundry detergent, softener, bleach or powder for white clothes. These could sum up to 300€.
All these cleaning products got replaced with simple natural dishwashing liquid I buy in big packaging and dilute with water, so it lasts for 4-6 months.
Washing soda replaced all other washing liquids. It´s great for cleaning bathroom, dishes and everything else.
Vinegar can be used as a softener and bleach for clothes. As well as for cleaning.
I still haven´t made my own washing detergent, but I do buy it in a cardboard box that lasts around 4 months.
7. HOME DECORATIONS AND FURNITURE
We all know what happens when we go to Ikea to buy a light bulb. We come out with bags of sheets, candles, frames, shelves, pillows, new garden lights, straws, mugs and a cute tray we just had to have. Maybe even some juice maker, pancake pen or useless kithen gadgets. Ikea was popping ups constantly on my monthly expenses. Decorations and useless cute things like that would take up to 400€ or more each year.
8. SNACKS AND CONVENIENCE FOOD
Oh my, snacks! I used to go to the shop or gas station just to buy a bunch of cookies, ice-cream, chips and all other snacks. I would also snack in the city just because I didn´t bring anything with me. Random snacks and convenience food took up to 50% of my groceries.
All that would cost me around 80-100€/month so around 1000€ per year or even more.
Snacks got replaced with dry fruit, nuts, dark chocolate and healthier snacks in a lot smaller amounts.
Granola or müslli mixes got replaced by plain oats.
Puddings, yogurts, … got replaced by smoothies.
Orange juice got replaced with fresh squeezed juice
Other juices got replaced by tea
I no longer buy pre-made foods (sauces, pizzas, pastry, vegan junk food like frozen burgers, patties, vegan cheese, … Not only it´s great for my health but also for my wallet.
Ice-cream got replaced with frozen bananas. But I admit that I fail sometimes and buy vegan ice cream (packed in a cardboard box).
I buy as much as I can in bulk, which is also cheaper.
9. TAKEAWAY COFFEE
Since I used to work in the capital of Slovenia (Ljubljana), I spent a lot of money on takeaway coffee, sandwiches, other snacks, and drinks. Even after I moved to Schladming I would still grab takeaway coffee. Cup of coffee here is around 3,5€ and that can get pretty expensive by the end of the month. In average takeaway coffee (or in bars) would cost me 200€ per year. Since I went vegan and low-waste I prepare my coffee, lunch, and smoothies at home.
10. FAST-FASHION CLOTHES
In 2014 and 2015 I spent in average 700€ in fast fashion shops like HM! 700€! That´s a lot of cheap and mostly plastic clothes.
The global fashion industry is opaque, exploitative and environmentally damaging and desperately needs revolutionary change. We love fashion, but we don't want our clothes to come at the cost of people or our planet. I now buy only if I really need to replace something or know I will wear it for a long time.
Since Fashion revolution Week is around the corner (24th- 30th of April). Be curious, find out and do something.
RESULT
By ditching plastic I saved more or less 3500€ in a year! This result totally surprised me. I knew it was a lot, but not that much. That's a lot of money to pay for packaging and products we throw away. Try to calculate your expenses and how much money you are losing to plastic.
Saying no to plastic & fast fashion can pay for your vacation! Plus you will be a lot healthier too!
Thank you, Mateja
---
I state this in every post because it is something we have to always take into consideration. And that is the privilege of a choice. There are a lot of people with disabilities, people living on a very tight budget, people with allergies, people in extremely poor communities or developing countries (where most of our waste ends up) that pay the cost of pollution, busy working parents that do not have time to make these changes. There are people that do not have the choice I have. I am speaking from the position of a privileged, white, European woman, living in safe Austrian mountains, with a budget, health and options big enough to be able to choose. Choosing to spend less and have less is different than being required to live on less.